Played 334 467 times
The creators of the excellent "Bleach vs Naruto" series give us here a new fighting game, in the same vein, allowing to have battles between the heroes of 2 other cult mangas: One Piece and Fairy Tail. This first promising version lets you play 6 characters: Luffy, Zoro and Nami from One Piece and Natsu, Lucy and Gray from Fairy Tail. Each character has his own attacks and the many available techniques allow for epic fights. The menu is in Chinese but you will find below a screenshot in English to facilitate your navigation.

01/07/2014: Release of version 0.6 adding 4 new characters (Sanji and Pirate Empress Boa Hancock from One Piece, Erza Scarlet and Gajeel from Fairy Tale).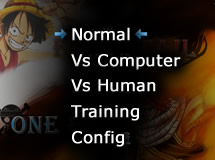 Menu Screen:
Z/S: Up/Down
A/D: Left/Right
J: Select

Game Controls:
A/D: Left/Right
S: Defense
J: Attack
U: Distance attack
K: Jump
L: Dash
I: Special attack

See also: Fairy Tail Vs One Piece 0.7 (Release Date: August 01, 2014)

Comments